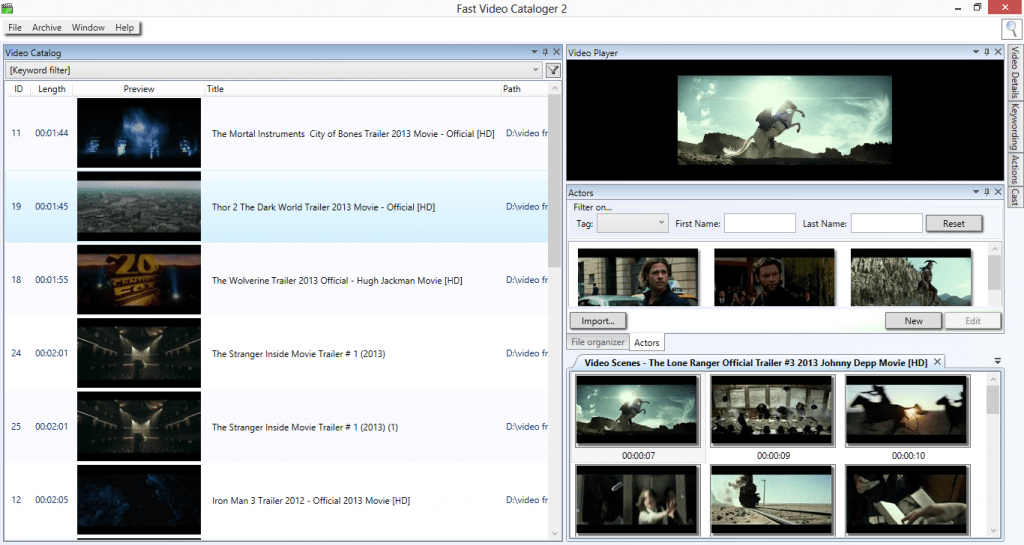 Fast Video Cataloger isn't just for keeping your collection organized. It can also be used to play any of the videos in your collection. The program comes with its own internal video player that can do any of the things a normal video player can do. Don't like the integrated video player? You can tell Fast Video Cataloger to play your videos with your player of choice simply by letting FVC know where your video player is on your hard drive. From then on any videos you play in the video browser will open in whatever program you choose instead of the integrated player. Keeping all your video media organized on your computer has never been easier.
Easy browsing of your video collection
Have a favorite scene in a movie? Fast Video Player automatically segments any video files into scenes for easy browsing, and it generates a thumbnail for each of them. Any video can be started at any time from any thumbnail. The best scenes in any video are just a click away. You can also add keywords to any scene to make it even easier to find those particularly good parts. Don't like the thumbnails the program generated for your favorite scene? Go ahead and change them at any time. Don't like the segments FVC has divided your favorite video into? You can change those at any time just as easily as you would change the thumbnail. You can also add your video editing tools to the FVS browser and start them right from any thumbnail. These technologies make FVS ideal for finding specific parts in any large video collection. You'll wonder how you ever got by without all these tools at your disposal.
Easy video tools
All of the tools inside of Fast Video Cataloger are so easy to use, you may be surprised to read that you can be getting started in as little as three minutes! Using these quick start guides, you'll be off and running before you know it. Your video collection won't know what hit it! Soon you will be able to quickly and easily glide through your entire video archive. Using the embedded video player or one of your own choosing, you'll have access to your videos in not just an easy to navigate package, but specific parts of your videos at a glance. If you find yourself doing lots of video editing across multiple videos, you'll soon realise how much more efficient you've become.