Video clips for live streams
Regardless if you are a veteran streamer or just starting out, a key to a successful live stream is forming a bond with your audience. You need to react, communicate and interact with them and never ever be boring. Having quick access to a video library for live streams lets you be more responsive, and, it will make your stream more interesting and less boring.
Fast video cataloger let you build a video catalog and then quickly search, browse and find the video clip you are looking for. With Fast video cataloger, you will have quick access to all your clips live while you are streaming.
Live Streaming setup
If you are streaming videos on youtube you probably know about OBS Studio?
OBS Studios is free and open software that let you set up a streaming studio. You can combine a number of video sources to a live stream or record it to a file. The sources can be for example one of your computers screen, a web camera, images or video clips.
A typical setup is to have one screen where you do your screen recording and one screen, that is not broadcast, where you have the OBS studio software window.
You will also run Fast video cataloger on that second screen. Or, an even better setup, the third screen with just Fast video cataloger. You can use it quickly to find a video for your live stream from your entire video library. Once you have found the video you want to broadcast you simply drag the videos from the video catalog window to the OBS window and it is live.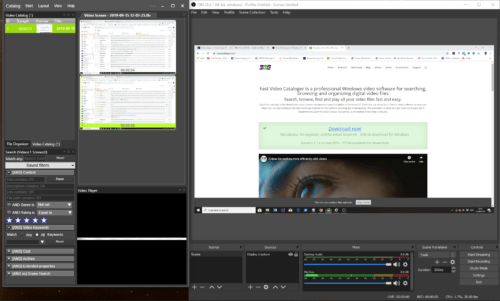 (Tip: If you can not drag the video from the video catalog window make sure the file organizer is present in the fast video cataloger layout. Click "view" and click "file organizer" ).
You do not need to do this all live. You can prepare before your broadcast. Drag over clips you think you will need for your broadcast. But, even if you prepare, being able to also change that programming is going to give you an edge over your competition.
Finding the video in Fast video cataloger is super quick and you will instantly have access to your entire video catalog. Having access to all your videos allows you to be more spontaneous and interactive with your audience.
Of course, you do not need to use the OBS studio software. The same technique to set up a video library for live streams will work with other streaming software as well.
You can download a free fully-functional trial version of Fast video cataloger from here.